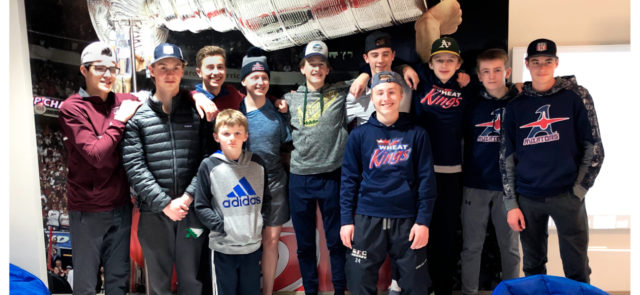 Since the grand opening of the Cully's Kids Cabin in the summer of 2017, approximately 3,500 kids (patients, siblings, and kid visitors of Children's) have had the opportunity to use Cully's Kids Cabin. One of those was Sean Gerszewski. Sean was diagnosed with cancer November 2018. Sean's parents Tammy and Wayne sent Matt and Bridget this letter about their experience at the Cabin.
Mr. and Mrs. Cullen,
Our son Sean is a 15 year old, Bantam AA hockey player (GF Aviators), diagnosed with osteosarcoma in November. His primary care is in Mayo, but since we are from Grand Forks, he is receiving most of his ongoing chemotherapy at the new Sanford Hospital in Fargo. Each week of chemo, Sean spends 4 to 5 days in the hospital. I just want to thank you, your wife, your family, and your foundation for creating Cully's Cabin! We love the "hockey" space and teen area. This past Saturday night, 6 teenagers got to hang out and enjoy the space, relax, and provide some normalcy for Sean. It was such a joyful blessing for his Dad and I to watch. "This place is wicked cool," was a comment shared by one of the girls. I even got them excited over the "Old School" video games, which aren't as easy as they look!
The hockey community in ND and MN have been unbelievably supportive of Sean and our family during this very challenging time. I truly think there is something special and unique about the hockey community. I cannot express how thankful we are for what you have provided for these kids!
Praying for continued blessings so you all can continue with the important work you do for children and their families.
Sincerely,
Wayne and Tammy Gerszewski
With everything in place at Cully's Kids Cabin we hope that more of the kids who need medical help at Sanford Children's Hospital will be able to access and enjoy the cabin to relax, play, take time in the therapy room or have a pizza party with their friends. We'll be sure and share some of the stories of kids and families who can take a little break in the cabin at the Children's Hospital.